State of the Arc (Mapping)
Keywords:
fire investigation, arc mapping, Daubert, fire origin, metallurgy, computed comography
Abstract
NFPA 921 Guide for Fire and Explosion Investigations considers the technique arc mapping to be one of the methodologies used in isolating a fire's origin and spread. Provided the technique is used properly and understanding its limitations, it is a tool for investigators. Synthesized here is the latest peer-reviewed research and discussions on the implications of increased use of ground- and arc-fault circuit interrupters on arc mapping analysis. Incorporated are case studies and evaluations of recent legal decisions. The goal is to arm investigators with what's needed to maximize the arc mapping's efficacy and best present its use and results.
References
National Fire Protection Association. 2021. NFPA 921: Guide for Fire & Explosion Investigations. Technical Committee on Fire Investigations.
Delplace, M., & Vos, E. 1983. Electric short circuits help the investigator determine where the fire started. Fire Technology, 19(3), 185-191.
Carey, N.J. PhD thesis, 2009. Developing a reliable systematic analysis for arc fault mapping. Centre for Forensic Science - Pure & Applied Chemistry. 2009, University of Strathclyde, Glasgow.
Carey, N., & Daeid, N.N. 2010. Arc mapping. Fire and Arson Investigator, 61(2), 34-37.
National Fire Protection Association. 2014. NFPA 1033, Standard for Professional Qualifications for Fire Investigator. National Fire Protection Association, Quincy, MA.
Babrauskas, V. 2018. Arc Mapping: A Critcal Review, Fire Technology 54, 749-780 (2018).
West, L., & Reiter, D.A. 2005. Full-Scale Arc Mapping Tests, Fire & Materials Conference, San Francisco.
Buc, E., Reiter, D., Battley, J. Sing, T.M., & Sing, T.M. 2013. Method to Characterize Damage to Conductors from Fire Scenes Proc. Fire and Materials.
UL 489 Standard for Molded Case Circuit Breakers (MCCBs), Underwriters Laboratories..
Goodson, M.E.1999. GFIs and Fire Investigation, Fire & Arson investigator, January 1999.
Goodson, M.E. & Davis, K.R. 2016. Arc mapping in the advent f AFCI, GFCI and GFEP Circuit Protection Devices, ISFI Proceedings, ISFI 2016.
National Fire Protection Association, Section 440.65 of the National Electrical Code.
Atlass Insurance Group, 1300 South East 17th Street, Suite 220, Fort Lauderdale, FL 33316, https://goatlassinsurance.com/560/homeowners-insurance/electrical-panels-may-prevent-getting-insurance Last downloaded November 25, 2018.
Novak, C. 2018. ATF Fire Research Laboratory, Letter to the Editor in Response to 'Arc Mapping: A Critical Review', Fire Technology Vol. 54, Number 5, September 2018.
Arc Mapping as a Tool for Fire Investigation (ATFFRL-TB-170001 March 17, 2017).
Icove, D.J. & Haynes, G.A. 2018. Kirk's Fire Investigation, 8th Edition. Pearson, New York, NY.
May, T.R & Icove, D.J. 2020. Arc Mapping Methodologies & the Pursuit of Magical Globules, Notches & Beads: A Bridge Too Far to Establish Fire Origin? Lincoln Memorial University UL Rev., 7, p. 37.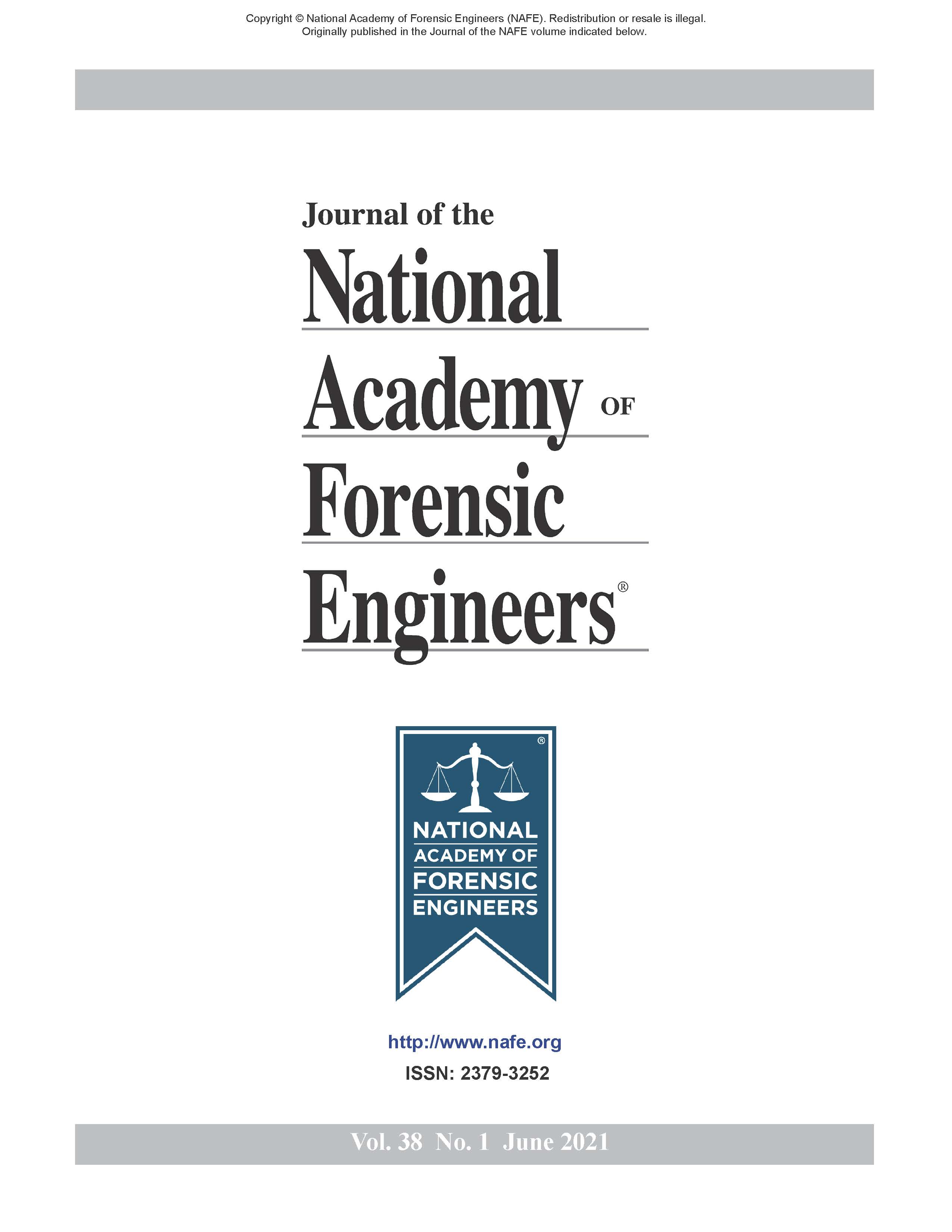 Downloads
How to Cite
Icove, David, and Thomas R. May. 2021. "State of the Arc (Mapping)". Journal of the National Academy of Forensic Engineers 38 (1). https://doi.org/10.51501/jotnafe.v38i1.127.
License
Copyright (c) 2021 Journal of the National Academy of Forensic Engineers
This work is licensed under a Creative Commons Attribution-NoDerivatives 4.0 International License.
All rights © Journal of the National Academy of Forensic Engineers. 

Full statement regarding the author's license of copyright to the NAFE is shown on the Copyright section of the Submissions Page.