Forensic Engineering Application of the Matchmoving Process
Richard M. Ziernicki

Angelos G. Leiloglo

Taylor Spiegelberg

Kurt Twigg
Keywords:
Matchmoving, photogrammetry, on-board video, photo-match, high-definition scanning, body-worn cameras, police cruiser cameras, drone video footage, accident reconstruction, lens distortion correction, SynthEyes, PFTrack, Boujou, forensic engineering
Abstract
This paper presents a methodology that uses the photogrammetric process of matchmoving for analyzing objects (vehicles, pedestrians, etc.) visible in video captured by moving cameras. Matchmoving is an established scientific process that is used to calibrate a virtual camera to "match" the movement and optic properties of the real-world camera that captured the video. High-definition 3D laser scanning technology makes it possible to accurately perform the matchmoving process and evaluate the results. Once a virtual camera is accurately calibrated, moving objects visible in the video can be tracked or matched to determine their position, orientation, path, speed, and acceleration. Specific applications of the matchmoving methodology are presented and discussed in this paper and include analysis performed on video footage from a metro bus on-board camera, police officer body-worn camera footage, and race track video footage captured by a drone. In all cases, the matchmoving process yielded highly accurate camera calibrations and allowed forensic investigators to accurately determine and evaluate the dynamics of moving objects depicted in the video.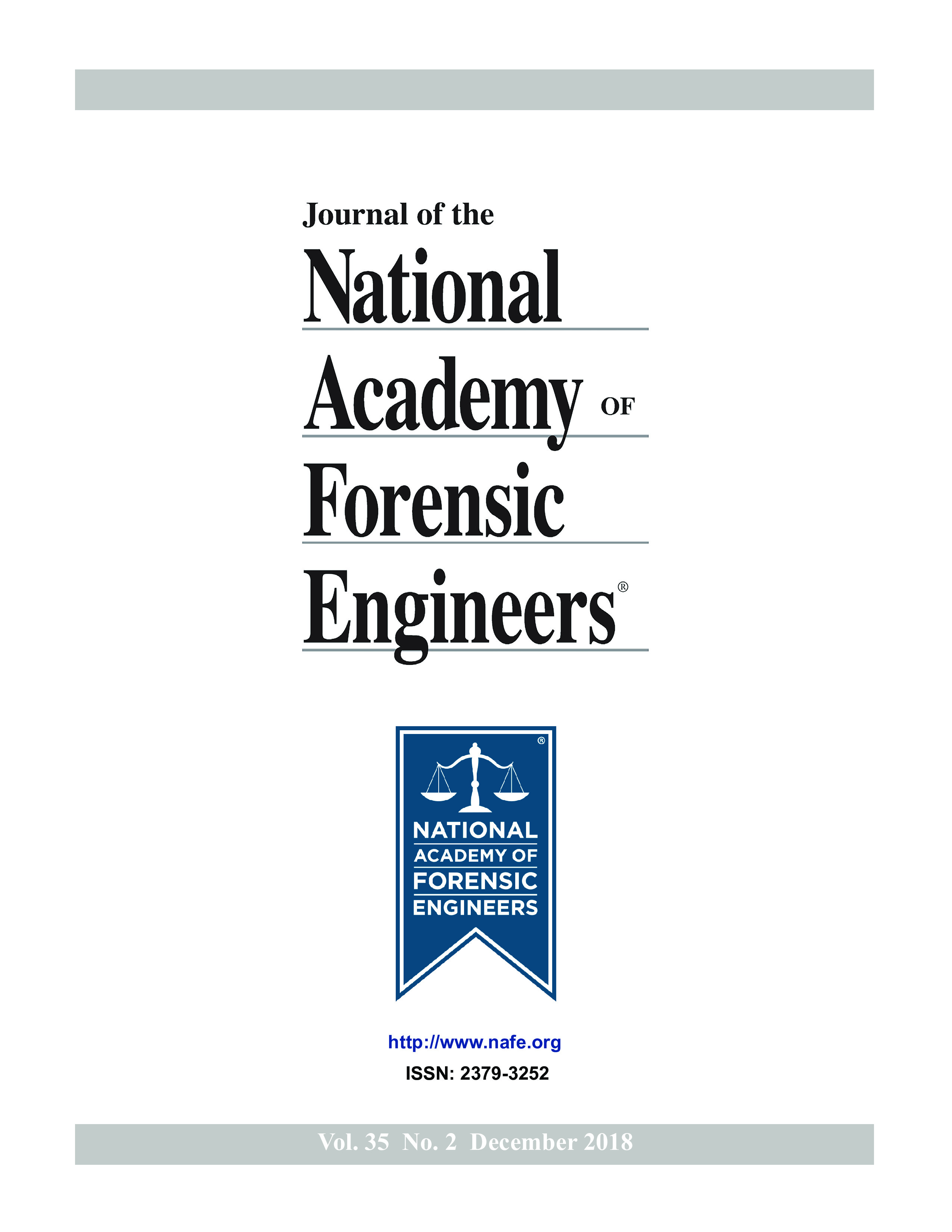 How to Cite
Ziernicki, R. M., Leiloglo, A. G., Spiegelberg, T., & Twigg, K. (2018). Forensic Engineering Application of the Matchmoving Process. Journal of the National Academy of Forensic Engineers, 35(2). Retrieved from https://journal.nafe.org/ojs/index.php/nafe/article/view/57
In connection with my efforts as a presenter at any NAFE educational program and/or as an author of a NAFE Journal article, I may have occasion to perform tasks and activities which could be determined to constitute authorship under applicable copyright laws. It is my express intent never to exercise any intellectual property right in any NAFE document or publication, whether in final or draft form. With regard to any intellectual property I provide to NAFE, I hereby warrant that (1) I am the author of such work or that I have secured written consent for use of any portions of the work copyrighted by others and (2) to the best of my knowledge, the work does not violate or infringe the copyright or other personal property rights of others.
I hereby acknowledge that my participation in NAFE activities provides me with substantial and valuable benefits, including access to current and revised forensic engineering content, discussion of existing and emerging legal and forensic principles, concepts and trends, and the opportunity to review forensic engineering information prior to its dissemination to the broader engineering community.
Accordingly, for and in consideration of the foregoing, I hereby bargain, sell and irrevocably assign to the National Academy of Forensic Engineering (NAFE), all of my right, title and interest, property claim, and demand of every kind and nature whatever in any and all copyrights (including full and exclusive worldwide ownership of the copyright, and all of the rights comprised therein, in print and in all other media), under and by virtue of any acts of Congress, with the rights to any and all profits, benefits and advantage that may arise from printing, publishing or sale of printed copies, electronic versions or other media assigned to the NAFE.