Forensic Engineering Investigation of a Fatal Farm Tractor Incident
Keywords:
Tractor, parking brake, disengagement, 3-D modeling, laser scan, forensic engineering
Abstract
A farm owner was found unresponsive with crushing head injuries on his property in rural Ontario. His small farm tractor was found 60 meters away down a small incline with the engine running and transmission in neutral. The owner's son alleged that when the parking brake was engaged (with the engine running and transmission in neutral), this tractor's parking brake would "pop out," allowing the tractor to move. Field tests were conducted on the tractor to attempt to duplicate the scenario and to determine if the alleged sequence of events was plausible. Components of the parking brake and one exemplar were assessed with specialized metrology to determine whether they were within the manufacturing specifications on the blueprint. A 3-D CAD model of fit was created, and several variances were identified between the parts and the factory drawing. The results of the analysis concurred with the scenario that these variances led to the disengagement of the parking brake and operator fatality.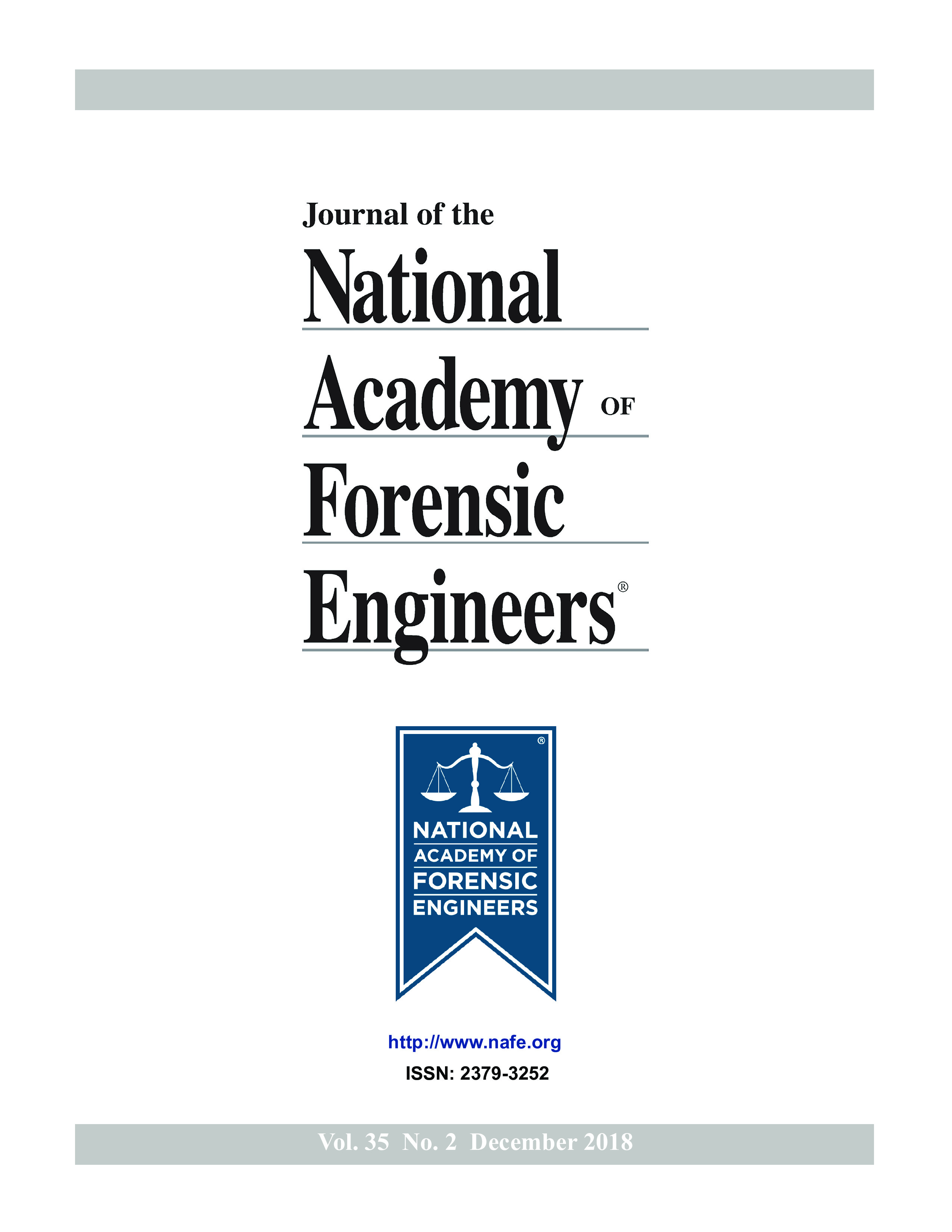 How to Cite
Couture, D. P. (2018). Forensic Engineering Investigation of a Fatal Farm Tractor Incident. Journal of the National Academy of Forensic Engineers, 35(2). Retrieved from https://journal.nafe.org/ojs/index.php/nafe/article/view/58
In connection with my efforts as a presenter at any NAFE educational program and/or as an author of a NAFE Journal article, I may have occasion to perform tasks and activities which could be determined to constitute authorship under applicable copyright laws. It is my express intent never to exercise any intellectual property right in any NAFE document or publication, whether in final or draft form. With regard to any intellectual property I provide to NAFE, I hereby warrant that (1) I am the author of such work or that I have secured written consent for use of any portions of the work copyrighted by others and (2) to the best of my knowledge, the work does not violate or infringe the copyright or other personal property rights of others.
I hereby acknowledge that my participation in NAFE activities provides me with substantial and valuable benefits, including access to current and revised forensic engineering content, discussion of existing and emerging legal and forensic principles, concepts and trends, and the opportunity to review forensic engineering information prior to its dissemination to the broader engineering community.
Accordingly, for and in consideration of the foregoing, I hereby bargain, sell and irrevocably assign to the National Academy of Forensic Engineering (NAFE), all of my right, title and interest, property claim, and demand of every kind and nature whatever in any and all copyrights (including full and exclusive worldwide ownership of the copyright, and all of the rights comprised therein, in print and in all other media), under and by virtue of any acts of Congress, with the rights to any and all profits, benefits and advantage that may arise from printing, publishing or sale of printed copies, electronic versions or other media assigned to the NAFE.