Forensic Engineering Analysis of Commercial Vehicle Air Brake Systems Performance
Jerry S. Ogden

Mathew Martonovich
Keywords:
Forensic engineering, air brakes, pneumatic brakes, commercial vehicles, commercial vehicle brakes, braking performance, s-cam brakes, air brake standards
Abstract
Braking systems for heavy commercial vehicles differ greatly from the design for light-duty motor vehicles. For example, 49 CFR 571.121 and 49 CFR 393.52 require loaded buses, single unit commercial vehicles, and vehicle-trailer combinations equipped with air brake systems to generate sufficient braking force to meet specific stopping distance, stopping acceleration rate, and brake force-to-weight percentage performance criteria. The combination of unique design, mechanical complexity, and maintenance issues characteristic to air brake systems also pose difficulty in the analysis of air brake system performance. Air brake system performance presents a difficult problem for the forensic engineer with limited familiarity regarding air brake system functions and the elements affecting brake performance. This paper provides insight into the evolution of air brake system standards and the applicable performance criteria for heavy commercial vehicles. The methods presented allow the forensic engineer to mathematically analyze and determine the effects of brake size, mismatched components, brake adjustment, and system air pressure on the overall braking force and stopping capabilities of air brake equipped commercial vehicles.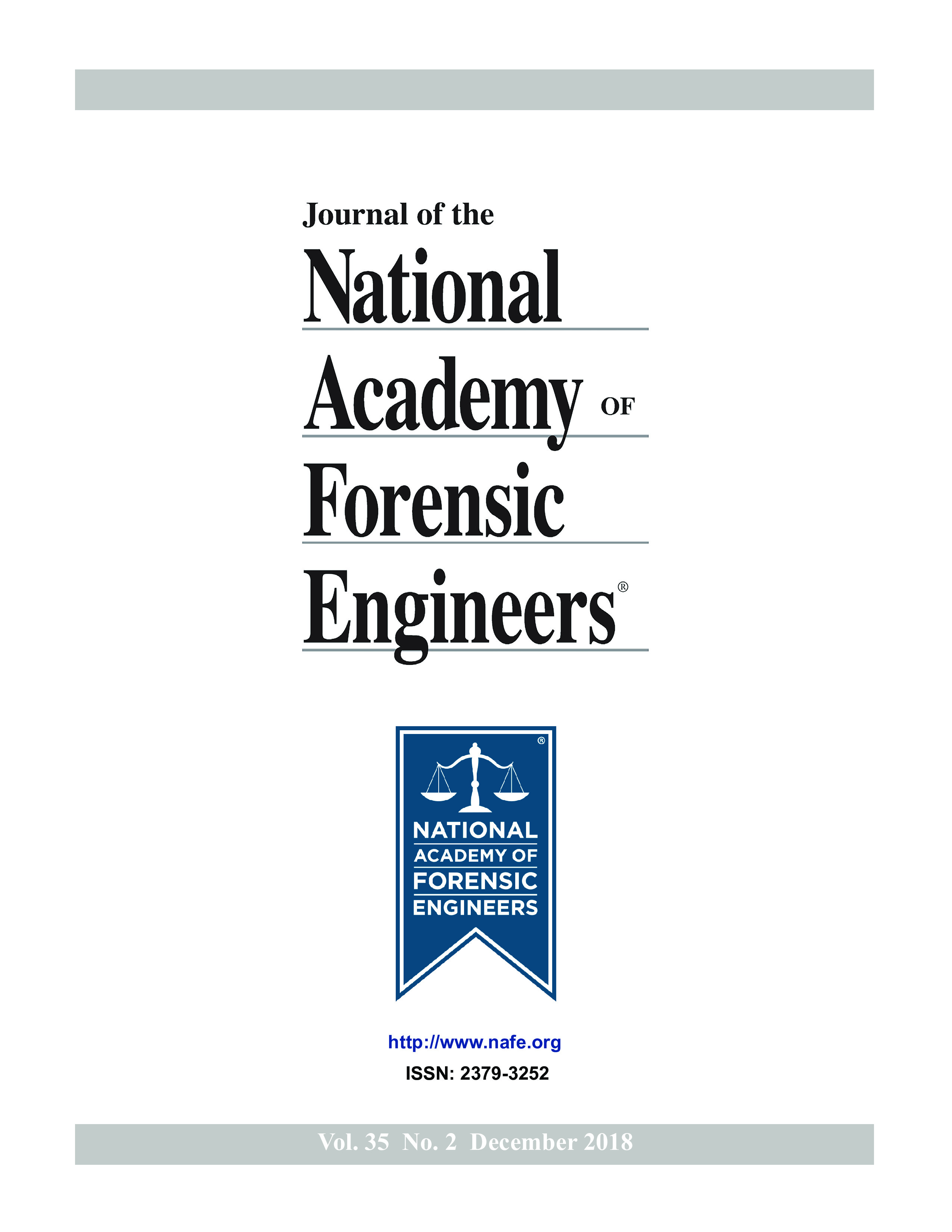 How to Cite
Ogden, J. S., & Martonovich, M. (2018). Forensic Engineering Analysis of Commercial Vehicle Air Brake Systems Performance. Journal of the National Academy of Forensic Engineers, 35(2). Retrieved from https://journal.nafe.org/ojs/index.php/nafe/article/view/61
In connection with my efforts as a presenter at any NAFE educational program and/or as an author of a NAFE Journal article, I may have occasion to perform tasks and activities which could be determined to constitute authorship under applicable copyright laws. It is my express intent never to exercise any intellectual property right in any NAFE document or publication, whether in final or draft form. With regard to any intellectual property I provide to NAFE, I hereby warrant that (1) I am the author of such work or that I have secured written consent for use of any portions of the work copyrighted by others and (2) to the best of my knowledge, the work does not violate or infringe the copyright or other personal property rights of others.
I hereby acknowledge that my participation in NAFE activities provides me with substantial and valuable benefits, including access to current and revised forensic engineering content, discussion of existing and emerging legal and forensic principles, concepts and trends, and the opportunity to review forensic engineering information prior to its dissemination to the broader engineering community.
Accordingly, for and in consideration of the foregoing, I hereby bargain, sell and irrevocably assign to the National Academy of Forensic Engineering (NAFE), all of my right, title and interest, property claim, and demand of every kind and nature whatever in any and all copyrights (including full and exclusive worldwide ownership of the copyright, and all of the rights comprised therein, in print and in all other media), under and by virtue of any acts of Congress, with the rights to any and all profits, benefits and advantage that may arise from printing, publishing or sale of printed copies, electronic versions or other media assigned to the NAFE.