Forensic Engineering Analysis Of A (Fatal) Accident Involving A Motor Home
Abstract
An Accident Involving A Motor Home With A Slide Out Room Was Investigated By The Authors. A Two Year Old Child Was Caught In A Pinch Point As The Slide Out Room Was Being Retracted. The Child Was Fatally Injured. The Design Of The Motor Home And The Actions Of The Parties Involved Were Analyzed. The Engineering Analysis Considered Mechanical Engineering Design Regarding Pinch Points, According To The Hierarchy Of Proper Engineering Design. Specifically, When A Hazard Is Identified In The Design Of A Mechanical Device Which Is Available To The Public, The Design Engineers Options Are 1) Modify The Design To Eliminate The Hazard Or Reduce The Danger To An Acceptable Level, 2) Design Guards To Isolate The Hazard, 3) Provide Effective Warnings, 4) Educate And Train Users To Be Aware Of The Hazard And Follow Safe Procedures To Avoid Injury, And 5) Provide Personal Protection Equipment To Be Used In Conjunction With The Product. In Iowa, Where The Case Was Filed, The Courts Require A Reasonable Alternative Design Be Identified Using Technology Available At The Time Of Manufacture Which Would Have Made The Product Safe.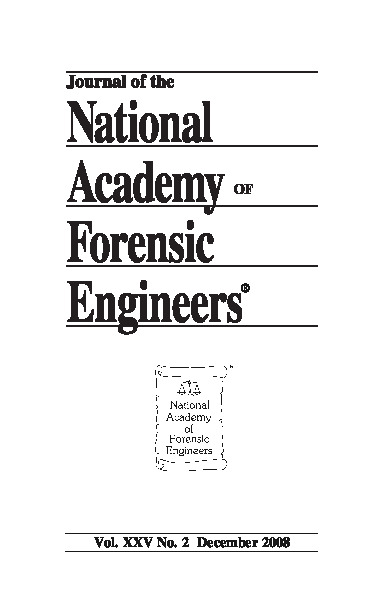 How to Cite
Jacobson, Olof H., and Barbera Guy J. 2008. "Forensic Engineering Analysis Of A (Fatal) Accident Involving A Motor Home". Journal of the National Academy of Forensic Engineers 25 (2). https://doi.org/10.51501/jotnafe.v25i2.695.
License
Copyright (c) 2008 National Academy of Forensic Engineers
This work is licensed under a Creative Commons Attribution-NoDerivatives 4.0 International License.
All rights © Journal of the National Academy of Forensic Engineers. 

Full statement regarding the author's license of copyright to the NAFE is shown on the Copyright section of the Submissions Page.