FE Analysis of Modular Woodburning Fireplace Fire with Gas Log Lighter in Determining Fire's Cause
Determining the Correct Fire Cause
Keywords:
Modular fireplace, forensic engineering, UL 127, NFPA 211, NFPA 921, chase , testing, reconstruction , methodology, fire investigation, clearances, smoldering, low temperature ignition, chimney, wood burning, combustion air duct , gas migration, propane, log lighter
Abstract
A fire originated inside the chase1 (a vertical enclosure, usually constructed of wood, that houses and conceals a chimney) surrounding a modular fireplace system of a new residence, ultimately spreading and destroying the home. A lawsuit by the homeowner's insurance company was later filed against the general contractor and framing subcontractor, alleging that improper clearances between the fireplace and chase framing caused the fire. The author was retained to perform a forensic engineering analysis of the origin and cause of the fire. An exemplar modular fireplace system and chase were constructed and instrumented, and more than 30 test burns were performed. Additional testing evaluated gas migration from the fireplace log lighter into flexible combustion make-up air ducting and the burning propensity of the ducting. The testing and analysis concluded that the cause of the fire was not improper clearances to the chase framing but improper installation of the combustion air kit facilitating a mediation of the case.
References
Hearth Fireplace Specialist Training Manual, Hearth Education Foundation Arlington, VA, USA, 2000.
Guide for Fire and Explosion Investigations, NFPA 921, 2017.
J. Tindal and J. Warren, "Forensic engineering analysis of low temperature ignition of wood," Journal of the National Academy of Forensic Engineers, vol. 26 no. 1, pp. 85-103, June 2009.
D.J. Icove and G.A. Haynes, Kirk's Fire Investigation, 8th ed. New York, NY, USA: Pearson, 2018.
C. Lautenberg, S. Sexton, and D. Rich, "Understanding long term low temperature ignition of wood," in 7th Proc. of the International Symposium on Fire Investigation Science and Technology, Hyattsville, MD, USA, 2014 pp. 361-373.
Standard for Chimneys, Fireplaces, Vents, and Solid Fuel-Burning Appliances, NFPA 211, 2013.
International Residential Code, ICC, Country Club Hills, IL, 2012.
International Residential Code Commentary, ICC, Country Club Hills, IL, 2012.
Keysight 34980A Multifunction Switch/Measure Unit Mainframe User's Guide, Keysight Technologies, Penang, Malaysia, 2019.
Igor Pro 8 Scientific Graphic and Data Analysis. (2018). WaveMetrics. Accessed May 4, 2021. [Online]. Available:https://www.wavemetrics.com/products/igorpro.
D. Marcouiller, and S. Anderson, "Firewood: How to obtain, measure, season and burn," Oklahoma Cooperative Extension Service Fact Sheet F-9440. [Online]. Available: https://tinyurl.com/y2dpow5g. Accessed 10/28/2019.
Standard for Factory-Built Fireplaces Northbrook, IL: Underwriters Laboratories; 2015.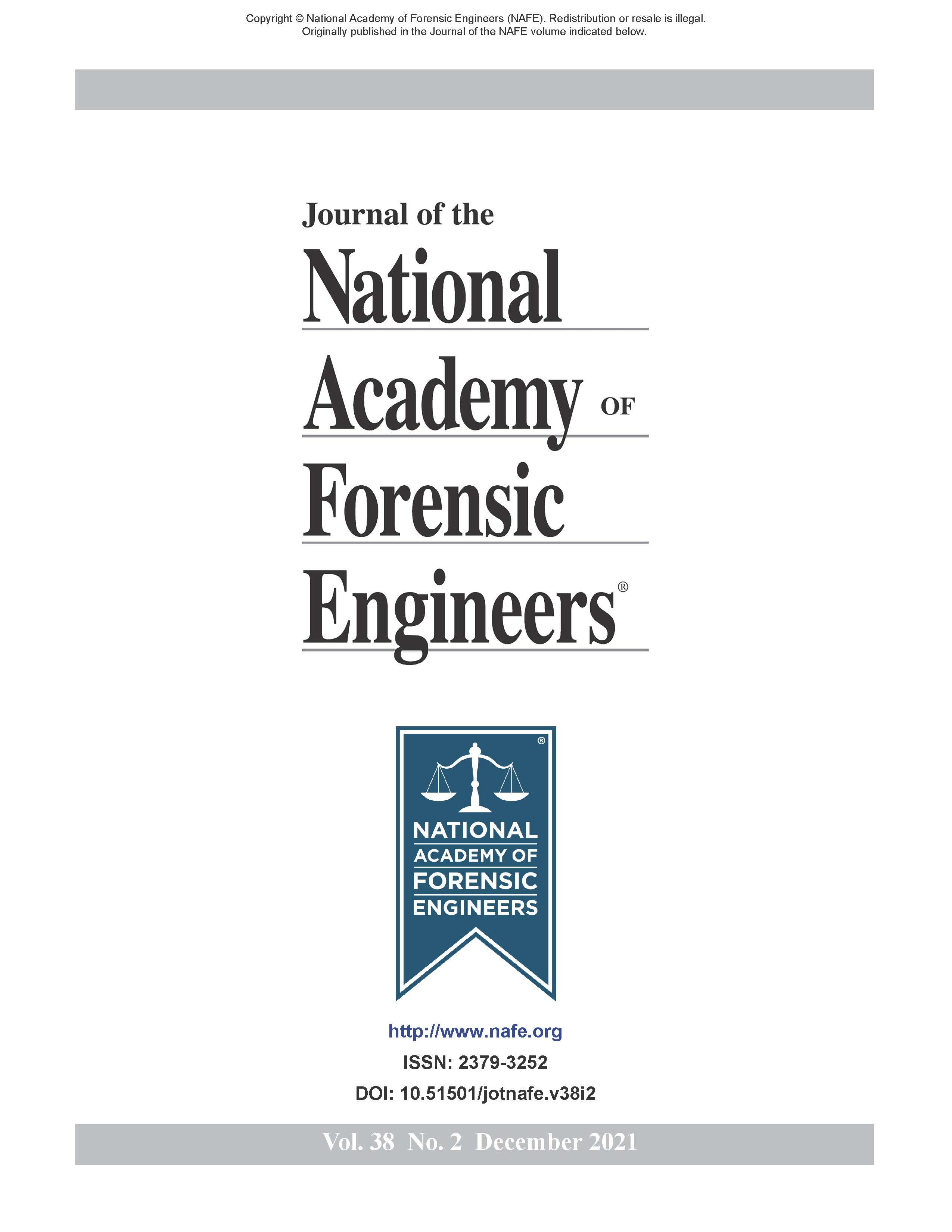 Downloads
How to Cite
Tindal, Jerry. 2022. "FE Analysis of Modular Woodburning Fireplace Fire With Gas Log Lighter in Determining Fire's Cause: Determining the Correct Fire Cause". Journal of the National Academy of Forensic Engineers 38 (2). https://doi.org/10.51501/jotnafe.v38i2.80.
License
Copyright (c) 2022 Journal of the National Academy of Forensic Engineers
This work is licensed under a Creative Commons Attribution-NoDerivatives 4.0 International License.
All rights © Journal of the National Academy of Forensic Engineers. 

Full statement regarding the author's license of copyright to the NAFE is shown on the Copyright section of the Submissions Page.