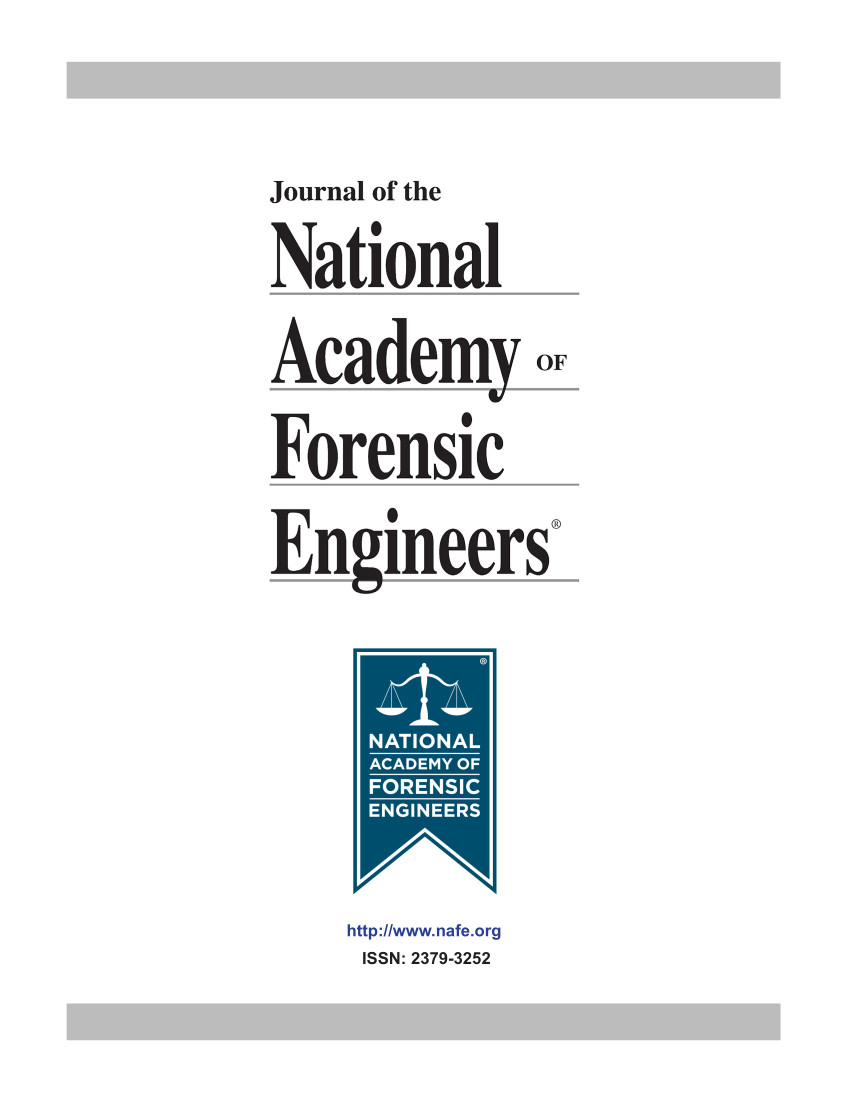 About the Journal
The JOURNAL OF THE NATIONAL ACADEMY OF FORENSIC ENGINEERS is intended to provide a means for the Associate Members, Members, Senior Members, Fellows and Affiliates of NAFE to present case studies and principled discussion of the application of their specific technologies in the practice of forensic engineering.
A concise abstract of 100 to 150 words maximum shall be sent to the Manuscript Editor for initial consideration. Upon approval of the abstract, authors will be scheduled to present their work at one of the semi-yearly NAFE Technical Conferences. A 90% complete draft copy of the manuscript shall be submitted to the assigned Associate Editor for review and approval no later than 60 days before the conference.  Presentation slides are due 45 days before the conference.
For details about requirements for manuscripts, visit:
NAFE Journal Contents
For details on the NAFE Journal peer review process, visit:
NAFE Peer Review Process
For the NAFE Bylaws content "Responsibilities of, Obligations of and Guidelines for Authors, the Journal Editor, Technical Review Committee Chair, and Technical Reviewers," visit:
NAFE Author Guidelines
The Journal of the National Academy of Forensic Engineers® contains papers that have been accepted by NAFE. In most cases, papers have been presented at NAFE seminars. Members and Affiliates receive a PDF download of the Journal as part of their annual dues. All Journal papers may be individually downloaded from the NAFE website at www.nafe.org. There is no charge to NAFE Members & Affiliates. A limited supply of Volume 33 and earlier hardcopy Journals (black & white) are available. The costs are as follows: $15.00 for NAFE Members and Affiliates; $30.00 for members of the NSPE not included in NAFE membership; $45.00 for all others. Requests should be sent to Mary Ann Cannon, Executive Secretary, NAFE, 1420 King St., Alexandria, VA 22314-2794.
Comments by Readers
Comments by readers are invited, and, if deemed appropriate, will be published. Send to: Mary Ann Cannon, Executive Secretary, 1420 King St., Alexandria, VA 22314-2794. Comments can also be sent via email to journal@nafe.org.
Material published in this Journal, including all interpretations and conclusions contained in papers, articles, and presentations, are those of the specific author or authors and do not necessarily represent the view of the National Academy of Forensic Engineers® (NAFE) or its members.
© 2020 National Academy of Forensic Engineers® (NAFE). ISSN: 2379-3252