Forensic Engineering Analysis of Quadcopter Drone Personal Injury
Keywords:
Forensic engineering, unmanned aircraft system, unmanned aerial vehicle, UAS, sUAS, UAV, sUAV, remote-controlled aircraft, hobbyist, quadcopter, drone, wireless remote control, safety
Abstract
A hobbyist/owner was using her remote-control model quadcopter drone for the first time when it descended and collided with a bystander. The owner believed there was a malfunction. The retaining insurance adjuster requested a review of the owner's manual and user's guide, photos and diagrams of the scene, e-mail communications, police report, and a forensic investigation of the quadcopter to determine if there was a malfunction. This paper introduces unmanned aircraft systems (UASs) for hobbyists, describes the UAS involved in this incident, outlines the planned investigation steps, and describes the sequence of events of the incident as well as resolution of the investigation. The initial activity for this case (reading manuals) prompted a question to the owner, the answer to which exposed her lack of aircraft and operating knowledge. The author convinced her that continuing the case might be embarrassing as well as costly. The planned investigation was never executed.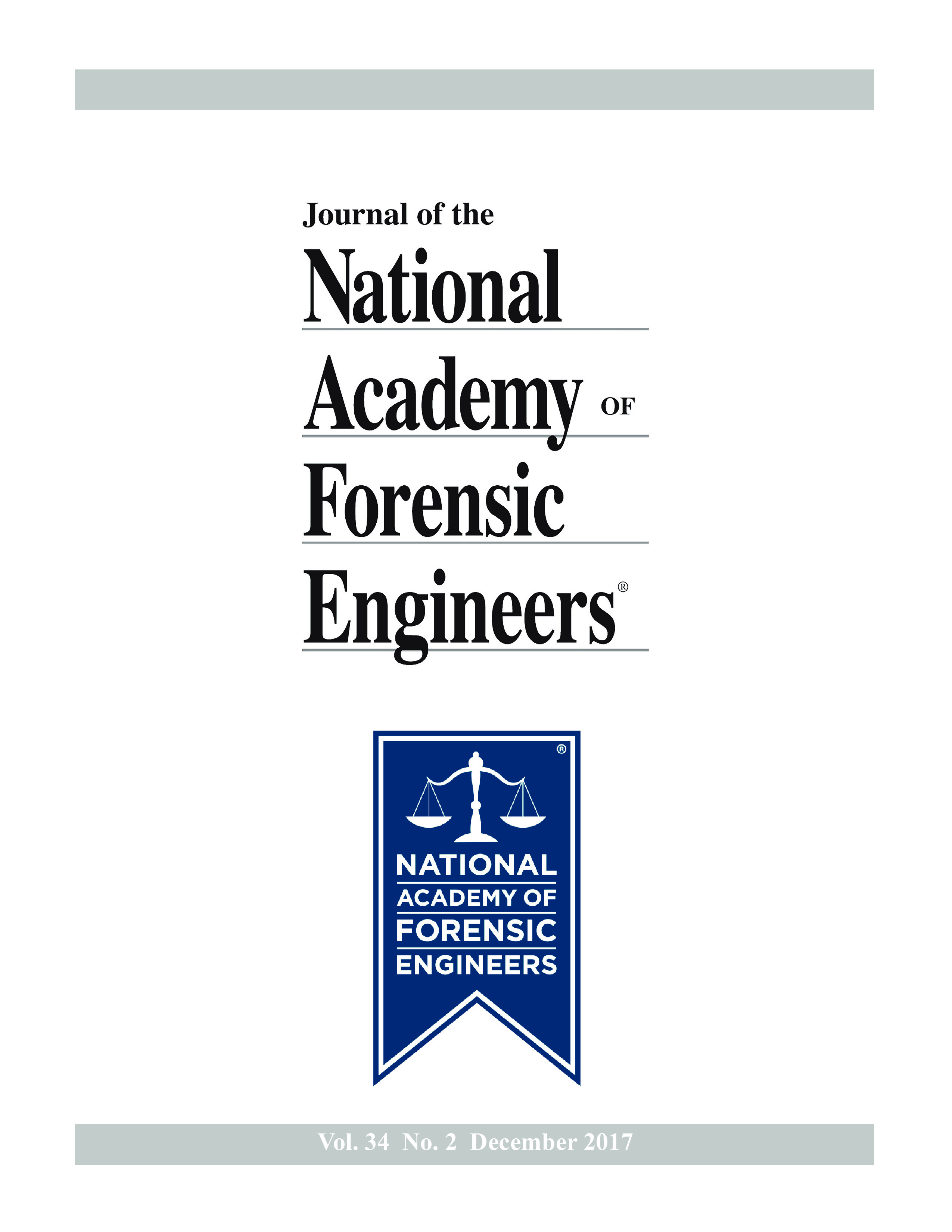 Downloads
How to Cite
Peruzzi, R. O. (2017). Forensic Engineering Analysis of Quadcopter Drone Personal Injury. Journal of the National Academy of Forensic Engineers, 34(2). Retrieved from https://journal.nafe.org/ojs/index.php/nafe/article/view/47
License
In connection with my efforts as a presenter at any NAFE educational program and/or as an author of a NAFE Journal article, I may have occasion to perform tasks and activities which could be determined to constitute authorship under applicable copyright laws. It is my express intent never to exercise any intellectual property right in any NAFE document or publication, whether in final or draft form. With regard to any intellectual property I provide to NAFE, I hereby warrant that (1) I am the author of such work or that I have secured written consent for use of any portions of the work copyrighted by others and (2) to the best of my knowledge, the work does not violate or infringe the copyright or other personal property rights of others.
I hereby acknowledge that my participation in NAFE activities provides me with substantial and valuable benefits, including access to current and revised forensic engineering content, discussion of existing and emerging legal and forensic principles, concepts and trends, and the opportunity to review forensic engineering information prior to its dissemination to the broader engineering community.
Accordingly, for and in consideration of the foregoing, I hereby bargain, sell and irrevocably assign to the National Academy of Forensic Engineering (NAFE), all of my right, title and interest, property claim, and demand of every kind and nature whatever in any and all copyrights (including full and exclusive worldwide ownership of the copyright, and all of the rights comprised therein, in print and in all other media), under and by virtue of any acts of Congress, with the rights to any and all profits, benefits and advantage that may arise from printing, publishing or sale of printed copies, electronic versions or other media assigned to the NAFE.