Forensic Engineering Analysis Of A Kite Surfing Accident
Keywords:
Kite Surfing, Kiteboarding, quick release, water sports, wind analysis, adventure sports
Abstract
The Investigation Of Recreational Accidents Often Involves An Analysis Of Unique Circumstances And Unique Equipment Not Commonly Found In More Traditional Forensic Engineering Investigations. In The Case Of The Kite Surfing Accident Which Is The Subject Of This Paper, It Was Alleged That The Quick-Release Mechanism Failed To Function Properly, Which Caused The User To Be Dragged To A Rocky Shore Causing Injuries. The Engineer Had To Familiarize Himself With The Various Components Of The Kite And Harness System, How The Interaction Of Those Components Under The Control Of The User Led To The Accident, And How The Accident Could Have And Should Have Been Avoided. Conditions Specific To The Subject Accident Were Investigated, Including The User Familiarity With Equipment And Emergency Protocols, Wind Patterns Present At The Time Of The Accident, And Geography Of The Accident Location. Finally, Research Revealed That There Were No Standards Or Regulation Of The Kite Surfing Industry In The United States, But That The Manufacturers Of The Equipment Claimed Compliance With A Foreign Standard. The Equipment Was Then Tested To Determine Whether It Was In Compliance With That Foreign Standard. This Paper Will Address The Proper Operation Of The Kite Surfing Equipment, And Will Describe The Testing That Was Performed By The Engineer To Determine The Effectiveness Of The Quick-Release Component Of The System. It Also Addresses Actions That Were Taken By The User To Attempt Avoidance Of The Accident.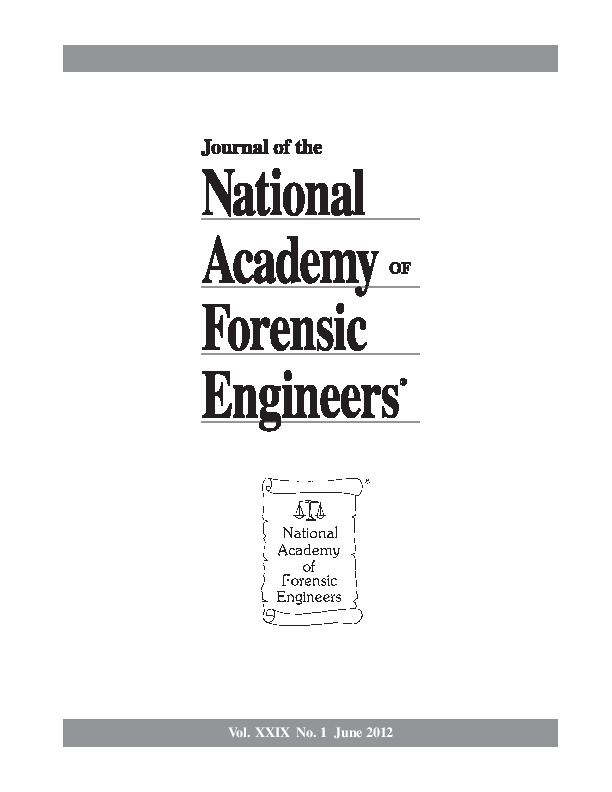 Downloads
How to Cite
Armstrong, Jeffrey D. 2012. "Forensic Engineering Analysis Of A Kite Surfing Accident". Journal of the National Academy of Forensic Engineers 29 (1). https://doi.org/10.51501/jotnafe.v29i1.762.
License
Copyright (c) 2012 National Academy of Forensic Engineers
This work is licensed under a Creative Commons Attribution-NoDerivatives 4.0 International License.
All rights © Journal of the National Academy of Forensic Engineers. 

Full statement regarding the author's license of copyright to the NAFE is shown on the Copyright section of the Submissions Page.